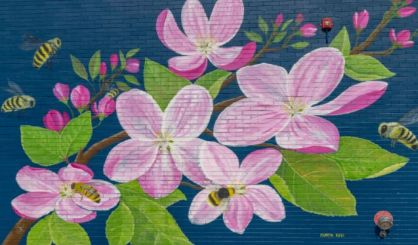 A new building side mural has been unveiled in downtown St. Joseph. St. Joseph Today's Amy Zapal tells WSJM News the organization worked with Silver Harbor Brewing Company to secure a mural featuring apple blossoms on the side of the brewery's property at 721 Pleasant Street. Artist Kumpa Tawornprom, of out Florida, was brought in after he painted a temporary mural there in 2019.
"He had painted a sea turtle on the outside wall," Zapal said. "Everyone had such a great response to it that Silver Harbor wanted to do a full mural with Kumpa."
Zapal says he also does work for Chalk the Block. She hopes there will be more murals in the community.
"They're beautiful, they're surprising. The one with the squirrels just make you kind of chuckle. This new one is just beautiful. It just makes you smile. I love the idea that folks who are exploring our downtown and exploring around southwest Michigan come across these surprising pieces of art."
The new mural at Silver Harbor Brewing was finished on Sunday. Zapal invites everyone to head downtown to check out the artwork. She recommends making a purchase at Silver Harbor while you're at it.