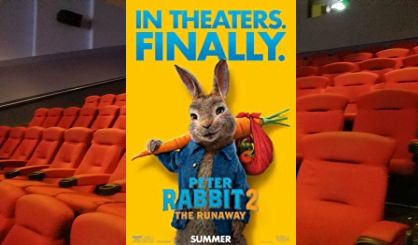 Flick Pick is a podcast about movies. In today's episode, Andrew Green reviews Peter Rabbit 2, which is a movie now in theaters.
Peter Rabbit 2 is — you guessed it — the sequel to Peter Rabbit, a 2018 film about — you guess it again — Peter Rabbit, the classic children's book character.
Peter Rabbit was a movie that was much better than anyone had expected it to be. How about this sequel? Scroll down and click the Play icon to find out with this very animated edition of Flick Pick!
Click here to listen to additional episodes of Flick Pick.
Podcast: Play in new window | Download (Duration: 2:54 — 2.7MB) | Embed
Subscribe: Apple Podcasts | Google Podcasts | Spotify | Amazon Music | iHeartRadio | Stitcher | Email | RSS | More