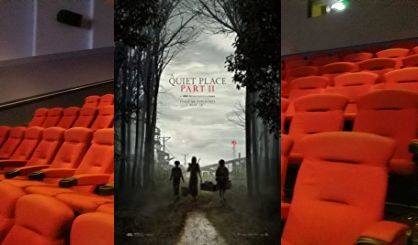 Flick Pick is a podcast about movies. In today's episode, Andrew Green reviews A Quiet Place Part II, which is a movie currently playing in theaters.
A Quiet Place Part 2 is the sequel to — you guessed it — A Quiet Place, a 2018 film about a family trying to survive after aliens have taken over the Earth. These aliens have highly sensitive hearing, but no vision. Therefore, everyone's got to be all quiet all of the time, or the aliens will get them.
A Quiet Place 2 takes place directly after the events of the first film, and Andrew loved it.
Scroll down and click the Play icon to find out why in this very intense edition of Flick Pick!
Click here to listen to additional episodes of Flick Pick.
Podcast: Play in new window | Download (Duration: 6:42 — 6.1MB) | Embed
Subscribe: Apple Podcasts | Google Podcasts | Spotify | Amazon Music | iHeartRadio | Stitcher | Email | RSS | More