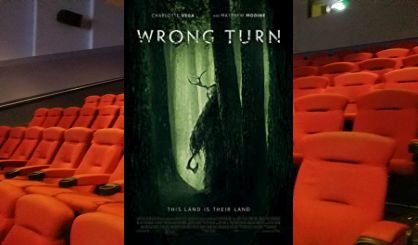 Flick Pick is a podcast about movies. In today's episode, Andrew Green reviews Wrong Turn, a remake of the 2003 horror film of the same name. This is a remake in name only because it is much different from the original. It's also BRUTAL.
This movie is about a group of hikers who get lost on the Appalachian Trail and fall into the clutches of a cult.
Did Andrew enjoy this foray into backwoods murder action, or does he wish he had made a WRONG TURN on his way to the theater? Scroll down and click the Play icon in this murderific edition of Flick Pick!
Click here to listen to additional episodes of Flick Pick.
Podcast: Play in new window | Download (Duration: 5:56 — 5.4MB) | Embed
Subscribe: Apple Podcasts | Google Podcasts | Spotify | Amazon Music | iHeartRadio | Stitcher | Email | RSS | More