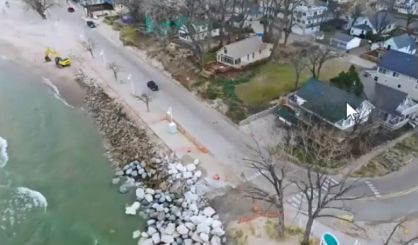 Quick progress is being made on shoring up the Lake Michigan shore along Silver Beach in St. Joseph. Speaking to the Berrien County Board of Commissioners Administration Committee on Wednesday, County Administrator Brian Dissette said contractors are out there dumping large rocks and preparing to put up new structures. He showed the committee aerial photos taken this week of the work.
"You can see that DDD has gotten the bulk of the armor stone installed, and now they're working on the site grading," Dissette said. "Once the site grading is complete, they can begin the installation of the temporary Hesco barriers."
Dissette says he credits the contractor with getting the job done quickly. The work is taking place along the south end of the beach with the city of St. Joseph and Berrien County teaming up for it.