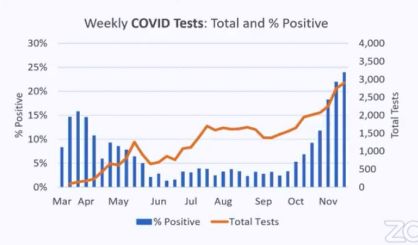 A coalition of Berrien County organizations and businesses has released a joint open letter to the community to urge continued diligence in the fight against COVID-19. The letter, signed by the Berrien County Health Department, the Berrien County Sheriff's Department, Indiana Michigan Power, Cornerstone Alliance, and Whirlpool, says with cases up, "the window of time for assisting our health care heroes to continue operating within their capacity is growing smaller by the day." Berrien County Health Officer Nicki Britten told much the same to the Berrien County Board of Commissioners Thursday.
"The number of cases that are happening in our community are doubling every 10 to 14 days," Britten said.
So, where could that take us?
"Continuing doing the math, 2 weeks after Thanksgiving, we could be at 400 cases per day. That is the nature of exponential growth."
Britten noted the deaths are going up, with many related to a nursing home outbreak. The joint letter issued by the health department and businesses says as "we are masked and socially distant, we also need to continue to support our local businesses by ordering takeout meals, shopping local, and continuing to do business with local service providers." It urges everyone to join in the effort to reduce cases of the illness.