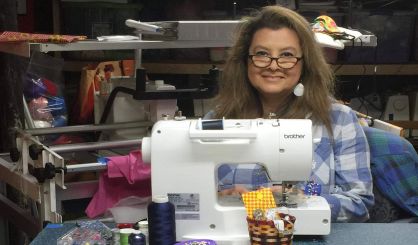 The Pokagon Band of Potawatomi says members of its Elders Council have been working on the creation and distribution of face masks to protect Pokagon Health Service employees, patients, Pokagon Elders, spouses, Pokagon citizens, and more from COVID-19. Elders Council Vice Chair Julie Dye tells WSJM News a team of volunteers stepped forward to make nearly 1,400 masks.
"I got the idea when I heard about the widespread shortage of PPE and how some individuals in other communities were sowing and donating to local hospitals," Dye said.
Now that enough masks have been made for residents and staff of the Pokagon community, Dye says they're working on masks to be sent to the Navajo Nation.
"Because of the great need out there at the Navajo Nation, they have so many citizens out there affected by the virus, infected and also a lot of deaths as a result. So, [the volunteers] want to continue on."
Dye says a truckload of PPE for the Navajo is set to leave from Michigan next week, and the Pokagon Elders plan to have masks ready to be included. She says the mask making effort was a team building experience for the 14 volunteers.
The Pokagons credit the following supporters and volunteers for the effort:
The following is a list of these hard-working and dedicated seamstresses.
Barbara Ann Warren
Candi Wesaw
Carla Getz-King
Cathy Ford
Deborah Williams
Elizabeth McBride
Judy Augusta
Julie Winchester-Farver
Kathryn Crouch
Lisa Downing
Ruth Saldivar
Sandra Taylor
Roberta Watson
Margaret Rapp
The project has been supported by several key donors and supporters including:
Rhonda Wesaw-Keene and Julie Dye helped to organize and support the group
Majel DeMarsh has donated a lot of material
Ann Morsaw-Banghart has made and donated masks
Julie Winchester-Farver; in addition to sewing masks, she has also been donating materials and supplies. Julie recently opened Quilted Oak Leaf on March 5, 2020. The shop is located on Glenwood Road in Dowagiac and is a destination Quilt Shop offering fabric, quilt notions, supplies and more.