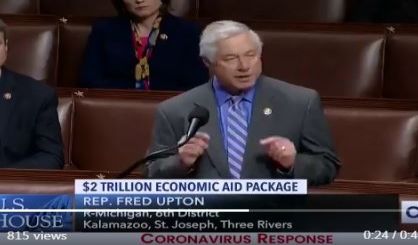 Congressman Fred Upton took to the U.S. House floor on Friday to urge his colleagues to approve the COVID-19 stimulus bill. The $2 trillion Coronavirus Aid, Relief, and Economic Security, or CARES, Act would send checks of at least $1,200 to every American adult, bail out airlines, provide financial aid to small businesses, and expand unemployment benefits, among other things. Upton said the coronavirus crisis warrants major action.
"Let's face it. Coronavirus has totally disrupted our lives – across the country in every community and certainly around the globe. To all of us, it's frightening. It's a nightmare. This bill is a partial response to end that disruption. It provides our medical workers and hospitals, small businesses, and virtually every family needed assistance. So to you who oppose this bill, please, please stand down. We can't wait another day to help. Don't add to this disruption by, in fact, being a disrupter. Be a leader."
Upton had to drive back to Washington to vote on the bill. He'd been hoping it could get unanimous consent of the House, which would have meant a physical vote would be unnecessary. The stimulus package still easily passed the House on a voice vote, and now goes to President Trump.