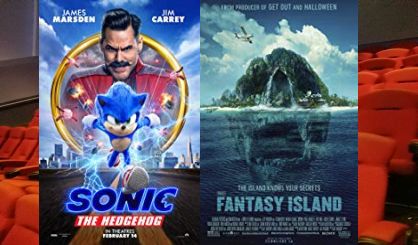 Flick Pick is a podcast about movies. In today's episode, Jacob Holmes and Andrew Green discuss the new movies playing this weekend in Benton Harbor.
We've got three of them.
First up is Sonic the Hedgehog. It's based on the popular video game series. A super fast hedgehog comes to Earth for some reason and must protect something from someone. We're guessing that someone is the evil Dr. Robotnik, played by Jim Carrey. This is that movie that terrified people with its original trailer due to the disturbing appearance of Sonic. The studio later fixed that. So we've got that going for us.
Up next is Fantasy Island. It's a horror film about people who are brought to a mysterious island to live out their fantasies. As it turns out, these fantasies quickly take a turn for the worse!
The third new release is The Photograph, a drama. It's about a woman who pieces together the life of her mother after the mother dies. A romance develops between the main character and a man she meets.
Jacob and Andrew will also both discuss the movies they have most recently seen. For both of them, it's Birds of Prey, the Harley Quinn movie.
Scroll down and listen to this very special Valentine's Day edition of Flick Pick!
Podcast: Play in new window | Download | Embed
Subscribe: Apple Podcasts | Android | Email | Google Podcasts | Stitcher | Spotify | RSS | More