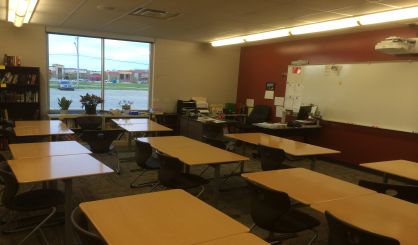 The Mackinac Center for Public Policy has released its 2019 Michigan Context and Performance Report Card. It ranks elementary and middle schools around the state based on their test scores while factoring in what percentage of a school's students are receiving free lunches. Mackinac Center Education Policy Director Ben DeGrow tells WSJM News the goal is to grade the schools on a curve so more affluent schools don't automatically fare better.
"Typically, the relationship we see is more kids receiving a free lunch equals lower test scores, and so if we figure out how a school is doing compared to its expectation, we get a better idea of how much value its adding and how much impact it's having," DeGrow said.
The Mackinac Center report ranks 2,203 public elementary and middle schools across the state. Coming out on top as the best elementary or middle school in Michigan was Hamtramck Academy, a charter. DeGrow says even after adjusting for students' socioeconomic status, the school with the lowest overall score in the state was the STEAM Academy at MLK in Benton Harbor Area Schools.
"Unfortunately, our report card doesn't give insight into specifically why a school is performing well or not performing well, but a rating that low, even after adjusting for student poverty, should be a cause for concern."
Looking at results for Berrien County, schools that received a grade of A are Berrien Springs Middle School, Upton Middle School, Buchanan High School, and New Buffalo Middle School. DeGrow says Buchanan High School may have shown up in the report if it has some middle school age students attending. You can find the Mackinac Center report right here.