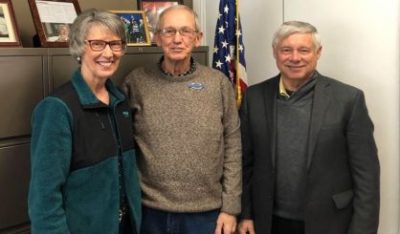 Congressman Fred Upton was in St. Joseph on Tuesday to honor a veteran for his service. Upton presented Steven Gordon, a Vietnam War veteran who now lives in Niles, with the Combat Infantryman Badge. Upton tells WSJM News his office often works with veterans who have not received the honors they earned.
"So many times, our men and women come back from these conflicts, and they're so anxious to get home back to their families, and receiving a medal is the last thing on their mind as they get resettled into their community. Hopefully, there are some other folks out there who will say, 'You know, what about my spouse or dad or mom or even myself?'"
Upton says if that's you, then contact his office. Gordon fought in Vietnam from 1967 to 1968. The Combat Infantryman Badge is awarded to infantrymen who fought in active ground combat and performed duties while under fire. Upton's office helped Gordon received the CIB by assisting in securing proper documentation, proving his service, and getting eyewitness statements.