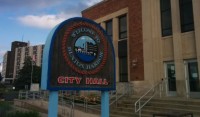 The Benton Harbor City Commission has tentatively signed off on creating a Commercial Rehabilitation District at 825 Riverview Drive as a Chicago-based developer looks to open an events center. This is the former site of All Phase electric that was purchased by Chicago Industrial Real Estate, LLC last year. Owner Matt Rogatz told city commissioners Tuesday night about his plans for the what could be held at the center.
"A banquet facility, certain events, corporate events, activity center," Rogatz said. "It could be birthdays, it could be communions, it could be whatever. So any kind of events for the community to bring people there, as well as a destination type place."
The creation of the Commercial Rehabilitation District for the property would freeze its taxes at their current level for up to ten years. Mayor Pro Tem Duane Seats and Commissioner Juanita Henry had their doubts about allowing another tax break, but Mayor Marcus Muhammad noted this development will eventually pay off.
"But as it sits right now, we get nothing but whatever the tax is on an empty building that's deteriorating as we debate," Muhammad said.
Rogatz said his investment in rehabilitating the property looks like it will be about $1.5 million. The city commission's approval of the tax break will be followed by a second vote on its length on February 3. Despite the doubts of some commissioners, the abatement was approved unanimously.