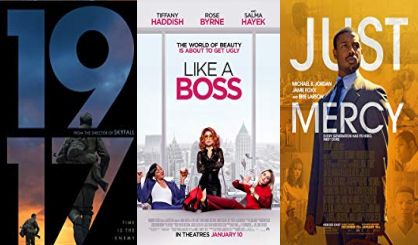 Flick Pick is a podcast about movies. In today's episode, Jacob Holmes and Andrew Green discuss the new movies playing this weekend in Benton Harbor. We've got four of them.
First up is 1917, a World War I film that's gunning for several awards this year. World War I buff Andrew is excited for this film and will definitely be there.
Also opening this week is Just Mercy. It stars Michael B. Jordan is a wrongly condemned death row inmate. Should be a good film.
Up next is Like A Boss, a comedy starring Tiffany Haddish and Rose Byrne. In it, they start a cosmetics company that gets stolen from them by Salma Hayek.
Finally, we've got Underwater, a horror-thriller. It takes place — you guessed it — underwater.
Jacob and Andrew will also discuss the movies they have most recently seen. For Andrew, it's Uncut Gems.
Click here to listen to additional episodes of Flick Pick.
Podcast: Play in new window | Download | Embed
Subscribe: Apple Podcasts | Android | Email | Google Podcasts | Stitcher | Spotify | RSS | More