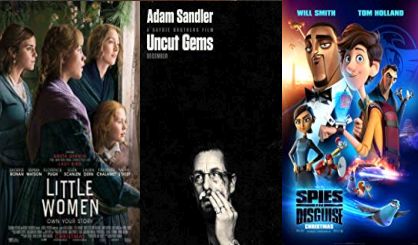 Flick Pick is a podcast about movies. In today's episode, Jacob Holmes and Andrew Green discuss the new movies playing in theaters this weekend.
We have three to talk about.
First up is Little Women. This is another adaptation of Little Women. It has been well received. Jacob will be there.
Up next is Uncut Gems. This is a movie in which Adam Sandler actually tries. When this happens, which is rare, the results are usually good. And word of mouth has it that Uncut Gems is good. It's about a gambling addict who happens to be a jeweler. Andrew will be there.
Third this week is Spies in Disguise. It's an animated film with an all-star cast. It's about some kind of spies or something.
Andrew and Jacob will also discuss the movies they have more recently seen. For Andrew, it's Bombshell. For Jacob, it's the new Star Wars and Cats.
Scroll down and click the Play icon to listen to this very festive edition of Flick Pick!
Click here to listen to additional episodes of Flick Pick.
Podcast: Play in new window | Download | Embed
Subscribe: Apple Podcasts | Google Podcasts | Spotify | Stitcher | Email | RSS | More