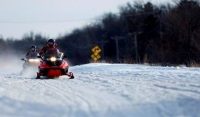 Winter storms have blocked snowmobile trails across the Upper Peninsula as well as in some parts of the northern Lower Peninsula. Michigan Department of Natural Resources spokesperson John Pepin told Michigan News Network this week riders should be cautious.
"The storms brought heavy snow, in some cases, rain that froze and was heavy on the trees and broke down tree limbs, and in some cases, actually toppled trees. So currently, the trail system has work being done on it as far as people clearing branches and other hazards, as well as trying to groom the trails."
Pepin says some areas have about two feet of snow. That may be ideal conditions for snowmobiling, but it can also conceal objects on the trails.