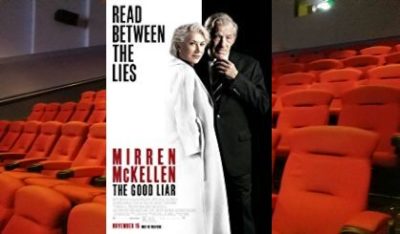 Flick Pick is a podcast about movies. In today's episode, Andrew Green reviews The Good Liar, which is a film now in theaters.
It stars Helen Mirren and Ian McKellen. In this movie, rich widow Mirren meets McKellen through an online dating service. Turns out McKellen is a con artist who scams people like Mirren out of everything they have. But there's more going on here than just that.
Did Andrew enjoy The Good Liar, or does he feel as though it conned him? Scroll down and click the Play icon to find out in this thrilling edition of Flick Pick.
Click here to listen to additional episodes of Flick Pick.
Podcast: Play in new window | Download | Embed
Subscribe: Apple Podcasts | Android | Email | Google Podcasts | Stitcher | Spotify | RSS | More