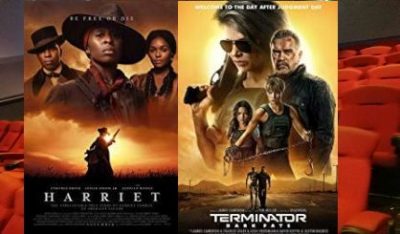 Flick Pick is a podcast about movies. In today's episode, Jacob Holmes and Andrew Green discuss the new movies playing this weekend in theaters. We've got three of them.
First up is Terminator: Dark Fate. This is the latest Terminator film, but with a twist. It takes place after the events of Terminator 2, ignoring everything that happened in 3, 4, and 5. This is a good thing, and the movie has been much better received than Terminator Genisys. Andrew swore he would never see another Terminator movie after Genisys, but now he's been convinced to see this new one. Jacob will also be there.
Also new is Arctic Dogs. It's an animated film about a bunch of dogs in the Arctic.
The final new film is Harriet, about American abolitionist hero, Harriet Tubman. It tells the true story of Harriet Tubman's escape from slavery and how she worked to free hundreds of slaves. This one also looks good.
Andrew and Jacob will also discuss the movies they have most recently seen. For Andrew, it's Countdown.
Scroll down and click the Play icon to listen to this thrilling edition of Flick Pick!
Click here to listen to additional episodes of Flick Pick.
Podcast: Play in new window | Download | Embed
Subscribe: Apple Podcasts | Android | Email | Google Podcasts | Stitcher | Spotify | RSS | More