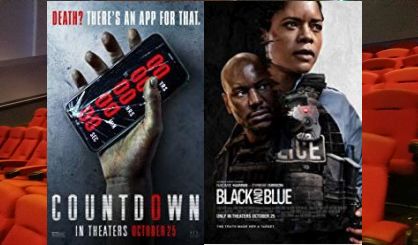 Flick Pick is a podcast about movies. In today's episode, Jacob Holmes and Andrew Green discuss the new movies playing locally this weekend.
We've got two of them.
First up is Black and Blue, a police action drama. It's about a police officer who witnesses a murder involving a fellow officer. She is then on the run as the entire system tries to take her out. Andrew is interested.
The other new movie is Countdown. It's a horror film about a mobile app that will predict when you are going to die. Should be a real laugh riot.
Andrew and Jacob will also discuss the movies they have most recently seen. For both of them it's Zombieland 2.
Scroll down and click the Play icon to listen to this exciting edition of Flick Pick!
Click here to listen to additional episodes of Flick Pick.
Podcast: Play in new window | Download | Embed
Subscribe: Apple Podcasts | Android | Email | Google Podcasts | Stitcher | Spotify | RSS | More