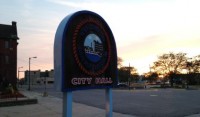 The Benton Harbor City Commission has opted not to fire the city's legal firm. At a Monday meeting, the body considered a motion from Commissioner Juanita Henry to give 60 days' notice to the law firm, Bittner Jennings, and to begin seeking bids for new legal representation. Henry said a similar motion was approved by the body in 2017, but never acted on.
"This is a resolution that was passed by the majority, and the former city manager did not endorse it," Henry said.
Henry said the city needs representation that will fight lawsuits rather than settle them. Mayor Marcus Muhammad said the legal firm has done good work for the city.
"The city currently has multiple cases that this law firm has fought and has been very successful in the defense of the city of Benton Harbor."
Most commissioners felt now would be a bad time to fire the attorney, considering the body just fired the city manager. Mayor Pro Tem Duane Seats said the manager is often the star witness in the various lawsuits faced by the city, and with him gone, getting rid of the attorney would be ill advised. Only Commissioners Henry and Ruthie Haralson voted to approve the motion.