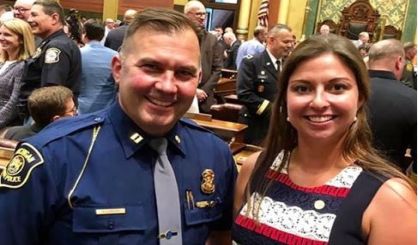 The Michigan House marked the anniversary of 9/11 with a ceremony on Wednesday. Southwest Michigan lawmakers invited guests to take part. Among them were Berrien County Sheriff Paul Bailey and Niles Fire Department Chief Larry Lamb, invited by state Representative Brad Paquette of Niles. Paquette said the occasion called for a salute to first responders.
"Having first responders out here is humbling because when I would be running away from a tragedy, these guys would be running in, and having them sitting next to me today is an absolute honor," Paquette said.
State Representative Beth Griffin of Mattawan welcomed Van Buren County Undersheriff Kevin Conklin and South Haven paramedic and firefighter Dawn Hinz. Griffin thanked them.
"I'm very grateful and very humbled, and just want to make sure that the entire community understands that today America stands in solidarity and remembrance and eternal thanks for the sacrifices of the first responders."
Captain Michael Brown of the Michigan State Police was the guest of state Representative Pauline Wendzel of Watervliet. Wendzel said, "The courage and sacrifice our men and women in law enforcement embody on a daily basis is greatly appreciated and respected by the people of Southwest Michigan."
Pictured: State Representative Pauline Wendzel and MSP Captain Michael Brown.