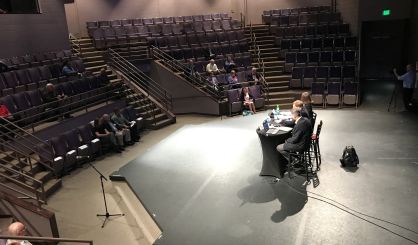 The Palisades nuclear power plant in Covert Township only has about three years remaining to be producing electricity for west Michigan before Entergy shuts it down for good. With the upcoming decommissioning of the plant, the federal Nuclear Regulatory Commission sent several officials to Lake Michigan College's Mendel Center Wednesday night to discuss the procedure and get feedback from area residents. The NRC's Bruce Watson explained to WSJM News that decommissioning is a lengthy process.
"If they were to start now, it would take a couple years for the spent fuel to cool down for them to move it completely to dry storage," said Watson. "At that point, most plants would begin decommissioning. Overall, it takes seven to 10 years."
There are 11 nuclear plants nationwide which will be closing soon and going through the decommissioning process.
"We have decommissioned ten power plants in the United States, and they were all released for unrestricted use. Unfortunately seven of them still have dry fuel storage facilities on them."
He says the NRC will continue to inspect those facilities to make sure they're safe and secure while the spent fuel is in storage.