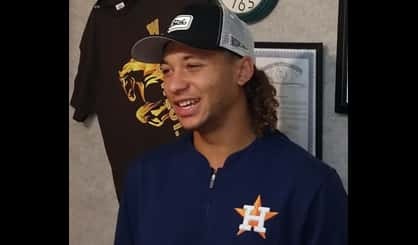 It's been a big year for St. Joseph High School alum Jordan Brewer. He was the Big Ten Conference Player of the Year in baseball for the Michigan Wolverines and helped lead them to the finals of the College World Series, and in the midst of that, was drafted by the Houston Astros. Brewer joined WSJM Sports' Morning Sportsbeat to talk about his experience and was asked about when he learned he was going to the Astros system after a playoff game.
"I finally get to the hotel room and turn on my laptop, and just heard a whole bunch of banging on my door, it literally sounded like the police were trying to break my door down," Brewer said. "My roommate opened it up and (my teammates) all came jumping on me and my computer. It was delayed, so I didn't see it right away. It was really cool. I wouldn't trade that moment for anything."
Brewer was All-State his junior and senior year at St. Joseph and landed on five All-American teams as a junior at Michigan this year. He says when he went from junior college to the Wolverines, the level of success he had this year wasn't expected.
"I was supposed to just be a utility guy, a fill-in guy, and we had some injuries and I had to start, and just rolled from there."
Brewer batted .329 with 12 home runs and 59 runs batted in for Michigan this year. The Wolverines fell to Vanderbilt in the finals of the College World Series in three games, nearly becoming the first northern team since Ohio State in 1966 to win the title.
Brewer signed his pro contract with the Astros on Monday.
His full interview with Phil McDonald and Scott Bradfield on WSJM Sports can be found here.