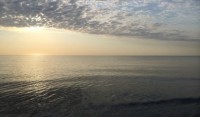 South Haven's South Beach has been cleared for swimming.
That's after the Van Buren/Cass District Health Department tested water samples from the beach on Thursday for E-coli levels.
On Wednesday, samples from South Beach showed elevated levels of E-coli, only one day after three beaches in Berrien County also showed higher amounts of the bacteria. All four beaches have now been cleared to swim at. South Haven's North Beach has also been tested and deemed safe.