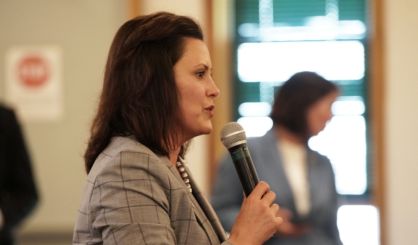 Governor Gretchen Whitmer is pressuring Michigan lawmakers to approve a budget that addresses the state's infrastructure needs while still meeting educational obligations. At a press conference Tuesday, Whitmer said the Legislature is dragging its feet on the budget.
"I am to this day the only person that's actually put a complete and real solution on the table to address our budget and all of the different crisis that we're confronting as a state," Whitmer said.
Whitmer said the budget discussions coming out of the Republican caucus have been inadequate.
"There's example after example of how the budgets that we've seen move in the Legislature thus far really are dramatically different and don't focus on the fundamentals of closing the skills gap, cleaning up drinking water, educating our population, and fixing our infrastructure problem."
Whitmer says GOP lawmakers have talked about selling assets like the Blue Water Bridge, which she compared to holding a garage sale in order to make a mortgage payment. That's all while she maintains infrastructure issues create a safety problem.
"There are bridges across our state that are in really poor condition. I think about that Miller Road bridge in Dearborn that I toured, where the Freep ran a picture of a school bus driving over it, and that's that nightmare that I have."
Whitmer said the only thing she's heard from the majority leadership are "unreal solutions." With more than 110 days having passed since she proposed her own budget, Whitmer says state lawmakers have only been in session for 42 days in that time. The governor said the Legislature has until October 1 to get a budget done.