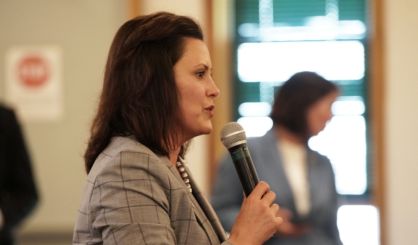 The big unanswered question remains now that the school board has sent its plan to fix the school district's financial and educational issues to the state: will Benton Harbor High School be closed? No commitment yet from Governor Whitmer.
"I put a thoughtful plan on the table, I heard the community, we had a lot of back and forth and I think we'll work together to resolve this," Whitmer told the Michigan News Network's Tim Skubick. "I can't say what the final pieces are going to be because it's going to be a joint effort."
When pressed for a promise to not close Benton Harbor High School, she had this response: "I could make all sorts of promises, but we've got to not get caught up in that and stay focused on doing what's in the best interests of the kids."
Whitmer sent a letter to the school board this week that indicates her willingness to continue negotiations with the district on its future. The state plan would suspend operations of the high school and turn Benton Harbor Area Schools into a K-8 district in exchange for eliminating $12 million of the district's $18 million in debt. The school board plan seeks to keep the high school open, improve academics, and work with the state on the debt issue.