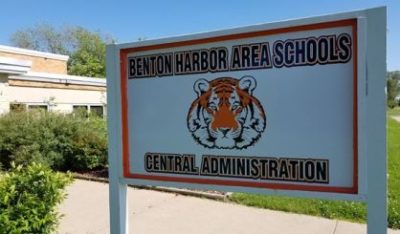 The Benton Harbor Area Schools Board of Education will meet with Governor Gretchen Whitmer on Wednesday to talk about the future of Benton Harbor High School. At a Monday meeting, the board released what it calls a "third option," as opposed to the state's proposed two options — closure of the high school, or dissolution of the district. Board Vice President Joseph Taylor tells us the third option takes multiple approaches to turning the district around.
"We gave what we thought was needed based on leadership, academics, based on students, etc. That's why we had that outlined."
Among other things, the board pledges to increase certified teacher retention, implement a pending partnership with Western Michigan University, develop individualized plans for each high school student, and restore academic programs like the Honor Society. Also Monday, the board accepted the resignation of district CEO Robert Herrera and named Assistant Superintendent Patricia Robinson as interim superintendent. Taylor says Herrera's resignation, effective Monday, restores some of the board's powers under the cooperative agreement.
"That article has always been in the agreement, and Dr. Herrera gave us that power tonight in delegation on his way out with his resignation."
Taylor said the appointment of Robinson will need the School Reform Office's approval. The board said Monday it's also asking the governor to help it address its finances, and for the Michigan Department of Education to designate the district as a critical shortage area so it could recruit retired teachers and administrators.