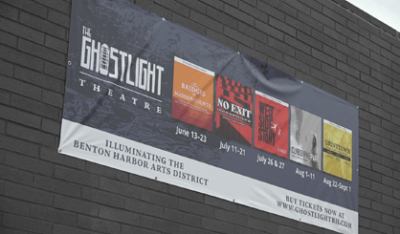 A new theatre company is getting ready to raise its curtain in the Benton Harbor Arts District.
The GhostLight Theatre is set to open its inaugural season in June, running through the summer months to August. For the founders of GhostLight, creating the theatre has been a process at least three years in the making.
"To be able to have something happen right here next to the Citadel Dance and Music Center, and add to the climate and the Arts District in general has just been a dream of mine for a long time," said GhostLight Artistic Director and Cofounder Paul Mow.
The first season is comprised of four shows, plus a musical in collaboration with the Southwest Michigan Symphony Orchestra, with the goal of getting audiences engaged in all kinds of conversation.
"I think all four of our pieces: the first one is a romance, the second one is existential, 'Clybourne Park' is about gentrification, they all end up having lots of conversation," Mow said.
In addition, the GhostLight is hosting four interns for the season, some young professionals from outside the area, some from right here in Southwest Michigan.
"They learn from each other," said Mow. "Whether they're from the outside or they're interns or they're undergraduates, they can teach our high schoolers and our college students the level to which aspire to."
The GhostLight is still accepting donations toward its planned building phases. Their first show, "The Bridges of Madison County", opens June 13.
More information can be found at GhostLightBH.com.