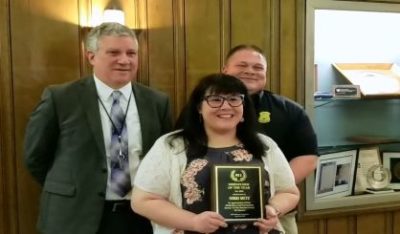 Berrien County's 911 Dispatcher of the Year is Nikki Metz of the Niles Police Department. At Thursday's meeting of the Berrien County Board of Commissioners, Metz received the award for her role in helping to identify a counterfeiting suspect this past winter. She told us dispatchers often work by the side of police.
"We're really close-knit," Metz said. "There are usually only two or three officers working at a time and one dispatcher, and so we're all kind of like family. So we openly discuss cases, ongoing issues, and anything I can do to help them work through it, I do."
Berrien County 911 Director Dave Agens told us dispatchers are the unsung heroes of keeping the public safe.
"I'm extremely proud of all our people," Agens said. "There are so many of them that were nominated, and yet  there are so many more that just do an outstanding job every day."
Metz told us she's been a dispatcher since 2011. Her mom and her grandmother were also dispatchers. Berrien County has a total of 33 dispatchers who take all kinds of calls and try to keep people calm until help arrives. 13 of the county's dispatchers were nominated for the Dispatcher of the Year Award. The reasons ranged from helping to save a choking dog to helping to find dangerous suspects.