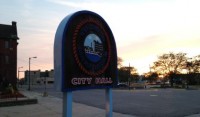 The city of Benton Harbor has received a clean, unmodified audit for the most recent fiscal year.
At Tuesday's meeting, city commissioners were told the latest audit carries the highest possible rating and that no deficiencies or weaknesses were found. The city's fund balance has gone up by more than $800,000, largely because of the new income tax. Mayor Marcus Muhammad said the strong audit, plus income tax money coming in, could enable even bigger infrastructure projects to come.
The income tax money reflected in the audit would be from withholdings. City Manager Darwin Watson told us the final amount raised by the new income tax won't be known until the end of April. The city's fund balance stands at $4.4 million.