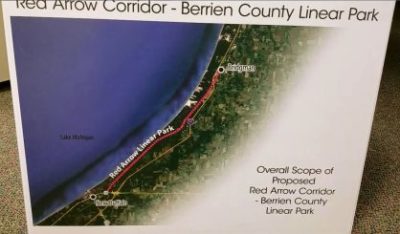 The Berrien County Parks Department has begun holding meetings so the public can offer input on the next five-year parks master plan.
The department tells us the first two meetings were Wednesday in St. Joseph, and they attracted about 35 people.
"The linear trail is generating quite a bit of excitement, they're very excited about that, and with Love Creek, as far as maintaining what we have and some trail opportunities there as well," said Parks Director Brian Bailey.
Bailey says the parks department will work on the five year plan throughout 2019, holding meetings around the county so people don't have to drive far to weigh in. The next one will be March 20 at Love Creek County Park. They'll continue taking comments through August, and then have a draft plan in September. Bailey says the parks plan may include new playground equipment for Silver Beach, improved shade and concessions at Silver Beach, and bridge work at Love Creek. The county must have a five-year parks plan in order to qualify for grants from the Michigan Department of Natural Resources.