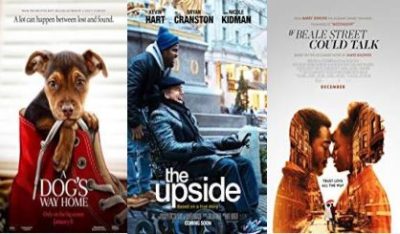 Flick Pick is a podcast about movies. In today's episode, Andrew Green and Jacob Holmes discuss the new movies opening at the cinema this week.
You have a whopping five new options in Benton Harbor. We couldn't even squeeze all of them into the picture!
First up is major Oscar contender If Beale Street Could Talk. It's a drama about a woman dealing with a pregnancy while trying to prove her fiance innocent in a crime. Expect this film to keep racking up the awards.
Up next is On The Basis of Sex, which is about Ruth Bader Ginsburg. In it, the Notorious RBG fights for equality.
Our third new option is The Upside, which stars Kevin Hart as a man who takes a job caring for a man in a wheelchair. That fellow is played by Bryan Cranston. The two have inspiring adventures together and learn a little something about themselves.
Coming up next is A Dog's Way Home, which is about a dog trying to make his way home after getting lost. The dog is voiced by Bryce Dallas Howard.
Finally, we've got a sci-fi film starring Keanu Reeves. It's called Replicas. Based on the film's title, we're hoping it involves multiple Keanus.
Scroll down and click the Play button to hear this week's exciting edition of the Flick Pick Box Office Preview!
Click here to listen to additional episodes of Flick Pick.
Podcast: Play in new window | Download | Embed
Subscribe: Apple Podcasts | Android | Email | Google Podcasts | Stitcher | Spotify | RSS | More