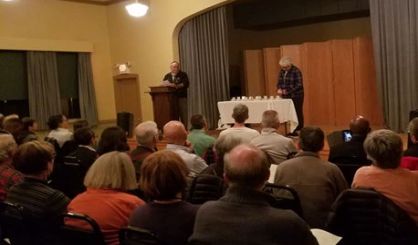 It was a packed house at The Citadel in Benton Harbor Monday night as members of several faiths gathered to remember the victims of last month's shooting at the Tree of Life synagogue in Pittsburgh. The vigil was organized by the First Hebrew Congregation of South Haven, Temple B'Nai Shalom in Benton Harbor, and the Andrews University Interfaith Committee. First Hebrew's Barry Fidelman told us apathy was to blame for the violence.
"I vow not to ever walk away again," Fidelman said. "These are teaching opportunities, and I want to learn how to teach and train someone to change their point of view."
Fidelman told us the strong turnout for the vigil showed "when one has pain, all feel the pain." Teresa Reeve with the Andrews University Interfaith Committee told us all wanted to reach out in solidarity to the committee's Jewish members following the shootings.
"We sent them a message of sympathy, and they sent back and said, 'Thank you. We appreciate it. Would you maybe be interested in helping us organize a prayer vigil?' And absolutely. That's what we're here for."
Speakers also included Benton Harbor Mayor Marcus Muhammad, who challenged all there to use the moment for a new beginning to make a world based on freedom, justice, and equality. The names of the eleven killed were read and candles lit in their honor. Prayers from represented faiths were recited while all pledged to work to end the hate.