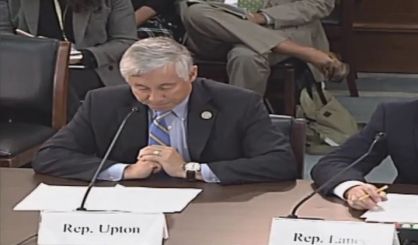 Is the economy really a good one for working families? U.S. Rep. Fred Upton says yes. Doug Cunningham reports.
U.S. Rep. Fred Upton is bullish on the economy as he campaigns for re-election.  So we asked him about the 40 percent of working families in the state struggling to meet a basic needs budget according to Michigan United Ways. What, we asked, would Upton do in a new term to directly help their economy? He says the GOP tax cut of 2017 does directly help these struggling working families.
"It reduced the rates for everybody. It allows to double the personal exemption – the deduction – for folks. Which for the average middle-class taxpayer produces about $3000 more in take-home pay over the course of the year. That's a good thing."
The Congressional Budget Office says the tax cut will add $1.4 trillion to the deficit. And the Tax Policy Center says the top one percent of households will see 83 percent of the total benefits from the law by 2027.
Upton says the unemployment rate is at an historic low and that helps struggling working families.
"Unemployment at record lows not only here but around  the country. We don't have the workers to fill those jobs."
Upton says auto parts companies in the 6th congressional district have added jobs, often starting at $16 or $17 an hour. He says as companies search for workers wages will go up.
It's true that wages have gone up recently. But as struggling families know, those recent gains aren't nearly enough to make up for many years of stagnant wages.