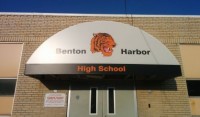 The pool belonging to Benton Harbor Area Schools may be cheaper to reopen than previously thought. That's the message from Trustee Steven Mitchell, who said at this week's school board work session he has sought a second opinion on the cost of fixing up the pool at the Charles Gray Community Center. The board was previously told it could cost up to $300,000. Mitchell said he's been told it could cost less than $50,000.
"I think it's a doggone shame that we haven't followed through on this, especially when it's not cost-prohibitive, and here we're sitting on $2 million in sinking funds," Mitchell said.
Mitchell said this week he's been told the pool just needs cosmetic work and a new pump. He said he's "tired of hearing of kids drowning" for lack of swimming skills. Mitchell is suggesting the district use some funds donated by the city to get the pool open again.