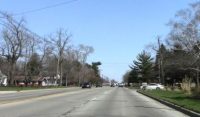 Could Napier Avenue in the Benton Harbor area get sidewalks in the next few years? Maybe. John Egelhaaf with the Southwest Michigan Planning Commission tells WSJM News a study on pedestrian options for Napier between the St. Joseph River and I-94 is being done now.
"They're going to repave that section of Napier in two sections, a piece of it in 2019 and another piece of it in 2020," Egelhaaf said. "We knew that the timing was important. If that corridor was to be re-thought, this was our moment."
There are several reasons why Napier doesn't have sidewalks. First, there's the fact that there is not much space on the side of the road in many places. That means some property owners could be asked to give up easements, and also means road planners have to consider if any right of way can be reduced to make way for pedestrian paths. There's also the issue of maintenance. If and when Napier gets sidewalks, the townships and city will have to keep them clear. Egelhaaf says all relevant agencies are aware of the dangers that Napier's lack of sidewalks poses. He hopes the repaving in 2019 and 2020 could include action to fix it.