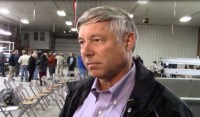 If the Trans-Pacific Partnership comes to a vote anytime soon in the U.S. House, don't expect it to get support from Congressman Fred Upton. He tells WSJM News he thinks the trade deal with 12 Pacific Rim countries will harm Michigan's economic interests.
"It needs to be rewritten," Upton said. "There are a number of provisions that simply will hurt Michigan jobs in a major way."
Upton says the automakers and Michigan drug companies are against the TPP.
"They believe that their protections on patents will be threatened if this legislation goes through," Upton said.
President Obama is working to find enough support for the TPP in Congress, and Upton doesn't think he's going to get it. He expects the plan to be put up for a vote during the lame duck session, after the election.