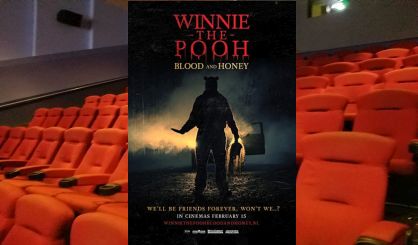 Flick Pick is a podcast about movies. In today's episode, Andrew Green reviews Winnie the Pooh: Blood and Honey, which is a movie.
It was in theaters this past weekend as a Fathom Event. Winnie the Pooh: Blood and Honey went viral last year because the character of Winnie the Pooh slipped into the public domain, and the enterprising makers of this film seized on the opportunity to make a crappy horror movie in which he is the villain.
Andrew wandered into this thing expecting it would be bad. Is he upset that he turned out to be right?
Oh, bother. Scroll down and click the Play icon to find out by listening to today's edition of Flick Pick!
Click here to listen to additional episodes of Flick Pick.