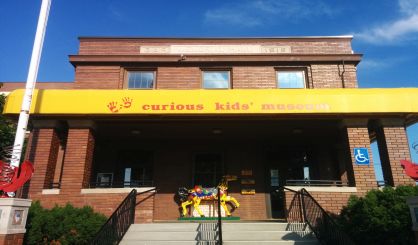 The Curious Kids Museum is seeking to acquire ownership of its building in downtown St. Joseph. Speaking to St. Joseph City Commissioners Monday, museum Director Lori Marciniak said as the museum looks at repairs needed from a July fire, the idea of buying the building from the city makes more sense. She told us ownership would help with making improvements.
"Donors have come to us and said, 'We really want to support this project, but we would prefer that you own the building,'" Marciniak said. "'The donation then goes to the Curious Kids Museum, and in the long run, we get the value of that money for many years.'"
Marciniak says the idea of acquiring the building from the city has been around for a while, but it became clear somewhat recently that would be the preferred course.
"We have a lot on our plate trying to raise money to get new exhibits and things, and so did we want to add that? Well, once we talked to a couple of donors, we realized we really need to pursue that."
The city owns the Civil War era building and leases it to the museum. City Manager John Hodgson said Monday due to insurance rules, the city will need to remain the building's owner while some repairs are made. However, Marciniak told us beyond that, the museum is interested in expanding and modernizing exhibit space. Commissioners said they're not opposed to the idea of selling the building to the museum, necessarily, but they need more information. The first step is for the building to be appraised.