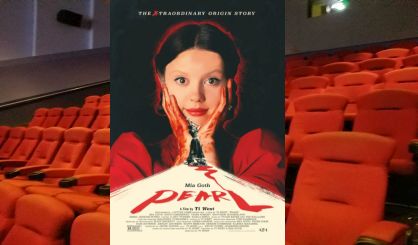 Flick Pick is a podcast about movies. In today's episode, Andrew Green reviews Pearl, which is a horror film now in theaters.
Pearl stars Mia Goth as a small town farmgirl who dreams of leaving her strict German mother and becoming a big star. When things don't go her way, she FREAKS OUT.
Pearl is the prequel to this year's X, another good horror film. No, you don't need to see X to understand Pearl.
Did Andrew enjoy Pearl, or…oh, who am I kidding? He LOVED this movie!
Scroll down and find out why by listening to this murderific edition of Flick Pick!
Click here to listen to additional episodes of Flick Pick.
Podcast: Play in new window | Download (Duration: 4:40 — 4.3MB) | Embed
Subscribe: Apple Podcasts | Google Podcasts | Spotify | Amazon Music | iHeartRadio | Stitcher | Email | RSS | More