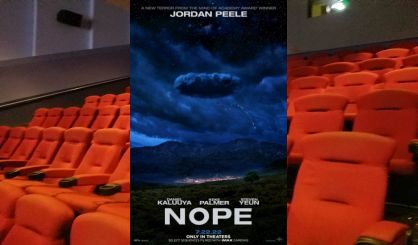 Flick Pick is a podcast about movies. In today's episode, Andrew Green reviews Nope, which is the new sci fi and horror movie from Jordan Peele.
In this film, Daniel Kaluuya works on a horse ranch in California and starts to notice strange activity in the sky above his property. Could it be…?
Did Andrew enjoy nope, or did he repeat the film's title as he stormed out of the theater? Scroll down and click the Play icon to find out in this out of this world edition of Flick Pick!
Click here to listen to additional episodes of Flick Pick.
Podcast: Play in new window | Download (Duration: 5:02 — 4.6MB) | Embed
Subscribe: Apple Podcasts | Google Podcasts | Spotify | Amazon Music | iHeartRadio | Stitcher | Email | RSS | More