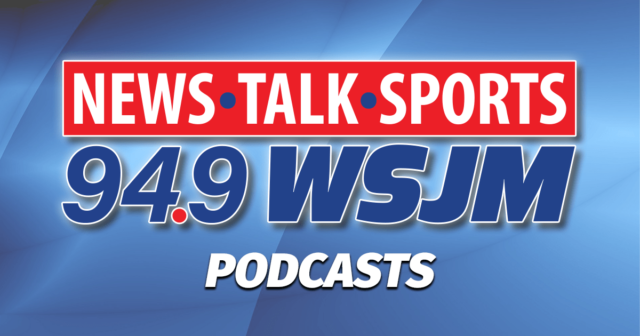 NCAAFB – Heisman finalists announced
Alabama quarterback Bryce Young and Michigan defensive end Aidan Hutchinson are among the four finalists for the Heisman Trophy, which will be presented on Saturday. Young and Hutchinson just led their teams to conference titles and berths in the CFP semifinals. Young broke the SEC championship game record with 421 yards passing in a victory against Georgia's vaunted defense on Saturday. The sophomore has thrown for 4,322 yards, 43 touchdowns and just four interceptions this season.  Hutchinson has 14 sacks and helped the Wolverines end an eight-game losing streak to rival Ohio State. Pittsburgh quarterback Kenny Pickett and Ohio State signal-caller C.J. Stroud are the other finalists. Pickett passed for 4,319 yards with 42 touchdowns this year to eclipse school marks. Stroud has completed 71% of his passes for 3,862 yards, 38 touchdowns and five interceptions in his first year as a starter.
NCAAFB – Freeman aims for national title as he takes over No. 5 Irish
Saying he was "ready for this challenge," 35-year-old Marcus Freeman was formally introduced Monday afternoon as Notre Dame's 30th head football coach. "I'm ready to lead this program to the greatest heights," said Freeman, never a head coach but an assistant at five schools, including the last 11 months as Notre Dame's defensive coordinator under former coach Brian Kelly. Those heights include Notre Dame's 12th national championship and first since 1988. The No. 5 Irish won't get a chance this year but will take their 11-1 record to the Jan. 1 Fiesta Bowl to play No. 9 Oklahoma State (11-2).
NBA – National Basketball Association
Last Night
Oklahoma City Thunder 114, Detroit Pistons 103
Indiana Pacers 116, Washington Wizards 110
Chicago Bulls 109, Denver Nuggets 97
Thursday 114, Pistons 102 – Thunder rally, beat sliding Pistons to end 8-game skid
Shea Gilgeous-Alexander had 30 points and 13 assists, Luguentz Dort scored 28 points and the Oklahoma City Thunder rallied past the Detroit Pistons 114-103 in a battle of teams that entered with eight-game losing streaks. Detroit led by 16 in the third quarter and 12 early in the fourth, but the Pistons were outscored 25-8 in the final five minutes of their ninth straight loss. Gilgeous-Alexander's layup with 3:46 left gave Oklahoma City its first lead of the game, and after Cade Cunningham's miss, Mike Muscala made it 101-97 with a 3-pointer.
Pacers 116, Wizards 110 – Pacers pull away early, hold off Wizards for 116-110 win
Domantas Sabonis finished with 30 points and 10 rebounds and Caris LeVert added 19 points to help the Indiana Pacers snap a four-game losing streak with a 116-110 victory over Washington. Indiana had lost four straight regular-season games to the Wizards. The Pacers also lost to Washington in last season's play-in round. Three-time All-Star guard Bradley Beal scored 34 points to lead the Wizards. Washington has lost three straight and four of five. The Wizards never got closer than eight points until the final minute of the game.
Bulls 109, Nuggets 97 – LaVine nets 32, Bulls overcome DeRozan's absence, top Denver
Zach LaVine scored 32 points and the Chicago Bulls beat the Denver Nuggets 109-97. The Bulls took a big hit a few hours before tipoff when leading scorer DeMar DeRozan entered the NBA's health and safety protocols. Even without the four-time All-Star, they dominated down the stretch and tied Brooklyn for the Eastern Conference lead. Lonzo Ball and Nikola Vucevic each had 20 points and 10 rebounds, and all five starters scored in double figures for Chicago. The Nuggets lost for the eighth time in 10 games despite a triple-double by Nikola Jokic. The reigning MVP finished with 17 points, 12 rebounds and a season-high 15 assists. Will Barton and Monte Morris each scored 19. Aaron Gordon added 18 points.
NBA – DeRozan in COVID protocol
Chicago Bulls leading scorer DeMar DeRozan entered the NBA's health and safety protocols ahead of Monday's game against Denver.  DeRozan participated in the morning shootaround prior to the game against the Denver Nuggets. Coach Billy Donovan said he wasn't sure if the four-time All-Star tested positive.
NFL – National Football League – Week 13
Last Night
New England Patriots 14, Buffalo Bills 10
Patriots 14, Bills 10 – Patriots solidify hold on division lead.
The Patriots have sole possession of first place in the AFC East following a 14-10 win over the second-place Bills.  Damien Harris scored on a 64-yard run in blustery conditions in which Mac Jones attempted just three passes. The Pats outgained the Bills 222 to 99 in yards rushing, with Harris delivering a season-high 111.  Defensive back Miles Bryant sealed the victory by batting down Josh Allen's pass at the goal line with Buffalo facing fourth-and-14 at New England's 18 with 1:55 remaining.  Bills QB Josh Allen was 15 of 30 for 145 yards and a TD. New England is 9-4 following its seventh win in a row. Buffalo is 7-5.
NHL – National Hockey League
Tonight
Nashville Predators at Detroit Red Wings, 7:00 p.m.
New York Rangers at Chicago Blackhawks, 8:30 p.m.
NCAAMBKB – Men's College Basketball
Tonight
Michigan at Nebraska, 7:00 p.m.                              News/Talk/Sports 94.9 WSJM 6:30
NCAAMBKB – Boiler up! Purdue is No. 1 in AP Top 25 for the first time
Purdue is No. 1 in The Associated Press men's college basketball poll for the first time. The Boilermakers were a unanimous No. 1 in the poll to move up from No. 2 last week. Reigning national champion Baylor moved up to No. 2, with Duke, UCLA and Gonzaga rounding out the top five. Purdue reached No. 2 in consecutive seasons under Gene Keady from 1986-88 and matched its previous high last week. A win over then-No. 1 Duke sent the Boilermakers to the top spot this week.
NCAAWBKB – Women's College Basketball
Today
Oakland University at Central Michigan, 11:00 a.m.
Eastern Michigan at Oklahoma, 6:00 p.m.
NCAAWBKB – Tennessee women back in top 10 of AP Top 25; SC still No. 1
Tennessee is back in the top 10 of the women's AP Top 25 for the first time in  nearly three years. The Lady Vols are No. 9. South Carolina remained a unanimous No. 1, with N.C. State, UConn, Stanford and Baylor rounding out the top five. Duke, LSU and Colorado all returned to the rankings this week for the first time in a few years. Oregon dropped out this week, ending a streak of 80 consecutive weeks in the poll.
Horse Racing – Derby winner dies after workout
The 3-year-old colt whose Kentucky Derby victory in May came under scrutiny because of a positive drug test has collapsed and died after a workout at Santa Anita in Southern California. Trainer Bob Baffert says Medina Spirit suffered a heart attack. The colt had just completed five furlongs in his second workout since finishing second in the Breeders' Cup Classic a month ago at Del Mar.
The colt will undergo a full necropsy to try to determine the exact cause of death.
Tennis – 2019 US Open champ Andreescu takes time off for mental break
2019 U.S. Open champion Bianca Andreescu says she will take a mental break from tennis and sit out the start of next season, including the Australian Open.  Andreescu said Monday in a posting on Twitter that she wants to "re-set, recover, and grow" after a challenging two years that included getting COVID-19.  Andreescu joins other professional athletes who have cited the need for time away from competition to gather themselves mentally.
AHL – American Hockey League
Last Night
Grand Rapids Griffins 4, Cleveland Monsters 1
MHSAA – High School Sports
Last Night
Boys Basketball
Berrien Springs 70, Constantine 52
Girls Basketball
Constantine 50, Berrien Springs 40
Tonight
Boys Basketball
St. Joseph at Battle Creek Harper Creek, 7:00 p.m.
Lakeshore at South Haven, 7:00 p.m.
GR West Michigan Aviation Academy at Benton Harbor, 7:30 p.m.
Mattawan at Paw Paw, 7:00 p.m.
Edwardsburg at Marshall, 7:00 p.m.
South Bend Clay (IN) at Niles, 7:00 p.m.
Battle Creek Pennfield at Plainwell, 7:15 p.m.
River Valley at Bloomingdale, 7:00 p.m.
Watervliet at Bridgman, 7:15 p.m.
Buchanan at Coloma, 7:00 p.m.
Lawrence at Covert, 6:00 p.m.
Allegan at Saugatuck, 7:00 p.m.
Vicksburg at Schoolcraft, 7:00 p.m.
Parchment at Comstock, 6:00 p.m.
Hartford at Gobles, 7:00 p.m.
Colon at Mendon, 7:00 p.m.
Otsego at Portage Central, 7:00 p.m.
Kalamazoo Christian at Portage Northern, 7:15 p.m.
Three Rivers at Gull Lake, 7:00 p.m.
Jackson at Battle Creek Lakeview, 7:15 p.m.
Battle Creek Academy at Howardsville Christian, 7:00 p.m.
Wyoming Kelloggsville at Fennville, 7:00 p.m.
Delton-Kellogg at Hastings, 7:00 p.m.
Galesburg-Augusta at Martin, 7:00 p.m.
Girls Basketball
Paw Paw at St. Joseph, 7:00 p.m.
South Haven at Lakeshore, 7:00 p.m.
Buchanan at Michigan Lutheran, 7:30 p.m.
Lawton at Dowagiac, 6:30 p.m.
Bridgman at Brandywine, 7:00 p.m.
Union City at Kalamazoo Loy Norrix, 6:00 p.m.
Battle Creek Lakeview at Jackson, 7:00 p.m.
Portage Northern at Kalamazoo Christian, 7:00 p.m.
Bloomingdale at Comstock, 7:30 p.m.
Bangor at Decatur, 7:30 p.m.
Mendon at Hartford, 7:30 p.m.
Centreville at Marcellus, 7:30 p.m.
Cassopolis at White Pigeon, 7:30 p.m.
East Grand Rapids at Mattawan, 7:00 p.m.
Vicksburg at Schoolcraft, 5:30 p.m.
Portage Central at Otsego, 7:15 p.m.
Gull Lake at Three Rivers, 7:00 p.m.
Saugatuck at Allegan, 7:00 p.m.
Hastings at Delton-Kellogg, 7:00 p.m.
Martin at Galesburg-Augusta, 7:00 p.m.
Battle Creek Academy at Howardsville Christian, 5:30 p.m.
Podcast: Play in new window | Download (Duration: 2:10 — 2.0MB) | Embed
Subscribe: Apple Podcasts | Google Podcasts | Spotify | Amazon Music | iHeartRadio | Stitcher | Email | RSS | More