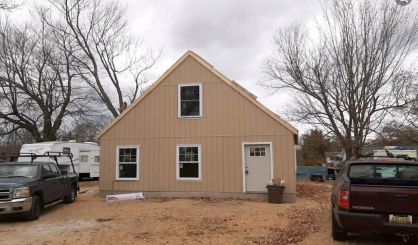 St. Augustine of Canterbury Episcopal Church will bless a new tiny home its Children's Chapel has helped construct in Benton Township this weekend. Children's Ministry Coordinator Cara Gillespie tells WSJM News the kids each year raise money for charity, and a few years ago they had an idea of a different kind.
"In January of 2018, they wanted to save their money for a specific project from the outset, and the project they had in mind was to build a tiny house for someone in need," Gillespie said.
With help from Andrews University, the church reached out to Harbor Habitat for Humanity to make the tiny home happen.
"Habitat gifted us a small lot that they couldn't build on because of its size, and we built a home from the ground up. It has a footprint of about 640 square feet with loft space in a neighborhood that has a lot of little Habitat homes in it already."
The 1,000 square foot home is a small triangle frame house at 378 Linden Avenue. The home is now done and the Children's Chapel will hold its inaugural blessing on Saturday at 12:15 p.m. The plan is to turn over the home to Harbor Habitat, which will then rent it out at a reasonable rate. Gillespie says it would be ideal for a single person or a couple. Everyone's welcome to stop by the blessing on Saturday.