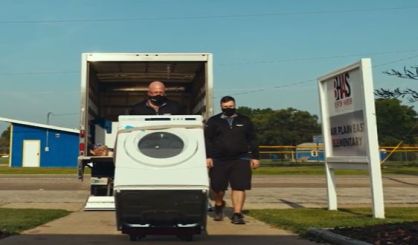 A new partnership between Benton Harbor Area Schools and Whirlpool will mean students who lack access to washers and dryers at home can have their clothes washed at school. Whirlpool's Laura Fletty tells WSJM News the company has brought its Care Counts laundry program to all of the school buildings in the district. It was started about six years ago when a teacher asked the company for help. She had noticed children would avoid school when they lacked clean clothing. So Whirlpool donated a washer and dryer to the school.
"What we found was the data was overwhelming, that this was actually helping more significantly than we could have ever imagined," Fletty said. "As we dug in and did the research, what we found was that lack of access to clean clothes has a much larger impact to students throughout the United States than we ever expected."
Since then, Care Counts has expanded to 134 schools in 36 states, including the District of Columbia. Benton Harbor Area Schools Superintendent Andrae Townsel said in a promotional video he's glad to welcome the program to Benton Harbor.
"I'm so excited bringing this to Benton Harbor because we have a great opportunity to support kids, keep them in school, and keep them achieving," Townsel said.
The Care Counts program historically focuses on elementary schools, but in the case of Benton Harbor, they've installed washers and dryers at all of the school buildings. Fletty says each building is now equipped with a set and Whirlpool also replaced some commercial grade washers and dryers that were already at Benton Harbor High School. You can learn more about the Care Counts program right here.