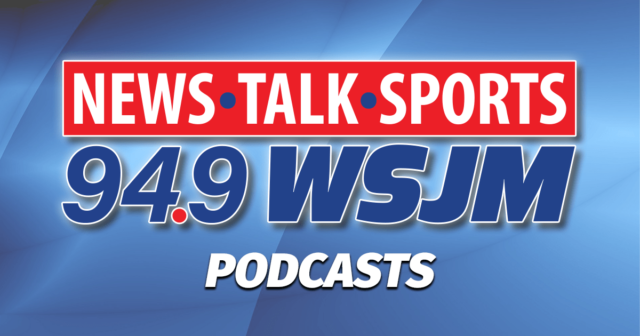 MLB – Major League Baseball
Last Night
Detroit Tigers 8, Seattle Mariners 3
Chicago White Sox 5, Toronto Blue Jays 2
Cubs were off
Tigers 8, Mariners 3 – Tigers rally early behind Schoop, beat Mariners 8-3
Jonathan Schoop homered and Isaac Paredes hit a go-ahead single as the Detroit Tigers rallied from a first-inning deficit and took advantage of three errors to beat the Seattle Mariners 8-3. Mitch Haniger put Seattle ahead against Tyler Alexander with the first of his two solo homers, but the Tigers rallied to take two of three from the Mariners, who have lost six of nine following a five-game winning streak. José Jiménez pitched a 1-2-3 seventh for his first win since last Aug. 26. Alex Lange threw the eighth and Gregory Soto pitched a perfect ninth to finish the six-hitter.
White Sox 5, Blue Jays 2 – Keuchel, Grandal lead White Sox past Blue Jays 5-2
Dallas Keuchel pitched six effective innings and Yasmani Grandal homered, leading the Chicago White Sox to a 5-2 victory over the Toronto Blue Jays. Led by Keuchel, Chicago closed out a 5-2 homestand and improved its AL Central lead to a season-high 4 1/2 games over idle Cleveland. Adam Engel also went deep, and reigning AL MVP José Abreu hit two RBI doubles. Marcus Semien and Lourdes Gurriel Jr. each drove in a run for Toronto, which lost for the fourth time in six games. Hyun Jin Ryu pitched six innings of three-run ball in his second straight loss.
Today
St. Louis Cardinals at Chicago Cubs, 2:20 p.m.
Chicago White Sox at Detroit Tigers, 7:10 p.m.                 94.9 WSJM/103.7 Cosy-FM 6:50
MLB – White Sox 2B Madrigal sidelined by torn right hamstring
White Sox second baseman Nick Madrigal could miss the rest of the season after tearing his right hamstring, putting another key player on the team's injured list. Madrigal was helped off the field after he tried to beat out a grounder in the seventh inning of Wednesday night's 6-2 loss to Toronto. The No. 4 overall pick in the 2018 amateur draft had been rounding into form of late, batting .365 with two homers and 10 RBIs in his last 20 games. Manager Tony La Russa says the loss of Madrigal is a "big blow."
MLB – Judge rejects effort to return MLB All-Star Game to Georgia
A Manhattan judge has rejected an attempt to force Major League Baseball to return next month's All-Star Game to Atlanta. U.S. District Judge Valerie E. Carponi ruled Thursday against a not-for-profit organization representing small businesses. The lawsuit filed May 31 alleged that Major League Baseball acted unconstitutionally when it moved the game from the Atlanta Braves stadium to Denver after Georgia Republicans enacted a restrictive new voting law. The rewrite of Georgia's election rules followed former President Donald Trump's repeated unproven claims of fraud after his presidential loss to President Joe Biden.
NBA – National Basketball Association Playoffs – Round 2 – Best of 7
Last Night
Milwaukee Bucks 86, Brooklyn Nets 83                                      (BKN leads 2-1)
Utah Jazz 117, Los Angeles Clippers 111                                    (UTA leads 2-0)
Tonight
Philadelphia 76ers at Atlanta Hawks, 7:30 p.m.                           (Series tied 1-1)
Phoenix Suns at Denver Nuggets, 10:00 p.m.                               (PHX leads 2-0)
NBA – Bulls' White has shoulder surgery
Chicago Bulls guard Coby White has had surgery on his left shoulder after injuring it over the weekend. The team says White was hurt "while engaged in basketball activities away from the team" and will be reevaluated in four months. White averaged 15.1 points and 4.8 assists while starting 54 of the 69 games he played in last season.
NHL – 2021 NHL Stanley Cup Playoffs – Round 2 – Best of 7
Last Night
Vegas Golden Knights 6, Colorado Avalanche 3                          (VGK wins 4-2)
Stanley Cup Semifinals
New York Islanders vs. Tampa Bay Lightning            (Game 1 Sunday, 3:00 p.m. at TB)
Montreal Canadiens vs. Vegas Golden Knights         (Game 1 Monday, 9:00 p.m. at VGK)
NCAAFB – College Football Playoff considering expansion to 12 teams
The College Football Playoff is considering an expansion from four to 12 teams. Six spots would be reserved for the highest-ranked conference champions plus six at-large selections. Such a plan would triple the number of teams with a shot at winning the national championship. The four-team playoff was implemented in 2014. Its popularity seems to have waned since only a few teams have grabbed the majority of the spots, led by Alabama and Clemson. The soonest such a plan might be in place would be for the 2023 season. It is more likely to be after the 2026 season.
NCAAFB – Schembechler son, players say Michigan coach knew of abuse
One of late University of Michigan football coach Bo Schembechler's sons and two of his former players have described in detail how they were molested by the team's longtime doctor and how Schembechler turned a blind eye when they told him about it. Matt Schembechler, and former players Daniel Kwiatkowski and Gilvanni Johnson told similar stories during a news conference Thursday about how Dr. Robert E. Anderson, who died in 2008, molested and digitally penetrated them during physical exams decades ago. They also talked about how Bo Schembechler, who died in 2006 and whose statue stands outside a university building that bears his name, refused to protect them and allowed Anderson to continue abusing players and other patients for years.
NCAAFB – Iowa to begin beer, wine sales to general public at stadium
Iowa will expand alcohol sales at Kinnick Stadium and its other athletic venues as part of a pilot program beginning this fall. Beer and wine will be available for purchase throughout Kinnick Stadium with the exception of areas immediately adjacent to the student section. Carver-Hawkeye Arena, Duane Banks Field and Bob Pearl Field will also be included in the pilot program. Thirty percent of net alcohol sales will be directed toward research-based initiatives instended to decrease high-risk drinking.
NCAAMBB – Former Michigan State star to remain in jail in murder case
A former Michigan State University basketball star has been ordered to remain in jail during his first court appearance on murder and other charges in Detroit. Defense attorney Andrew Abood asked for a bond, saying Keith Appling had always appeared in court in previous cases. But a magistrate denied bond, noting the first-degree murder charge. Abood entered a not-guilty plea on Appling's behalf. Appling is accused of killing 66-year-old Clyde Edmonds during a dispute over a gun. Appling played for Michigan State from 2010 to 2014. His coach, Tom Izzo, says the allegations are sad.
Soccer – Sam Mewis scores in U.S. women's 1-0 win over Portugal
Sam Mewis scored in the 76th minute and the U.S. national team beat Portugal 1-0 in the Summer Series on Thursday night. The U.S. women are undefeated in 40 straight matches, the third longest streak in team history. The team is undefeated in 54 games on American soil. The Americans were surprisingly scoreless until Mewis broke through with her header. It was her 22nd international goal.
MMA – Olympic, professional boxing champ Shields wins MMA debut
Claressa Shields won her MMA debut with a third round TKO victory over Brittney Elkin. Shields is an undefeated professional boxer and two-time Olympic gold medalist. Shields won Olympic gold in 2012 in London and repeated the feat four years later in Rio de Janiero. She started slowly in the main event of the Professional Fighters League card in Atlantic City, New Jersey. But she unloaded a series of heavy right hands in the third to claim the victory.
Olympics – Brisbane set to be named 2032 Olympics host next month
Brisbane is set to be officially named host of the 2032 Olympics when the IOC meets in Tokyo next month. The International Olympic Committee's executive board considered the 2032 hosting rights at a meeting Thursday. IOC president Thomas Bach says Australia's third biggest city can be awarded the games at a July 21 meeting ahead of the Tokyo Olympics. It is set to be the first Olympic host selected unopposed under a new system to streamline and speed up bidding campaigns. The Brisbane bid was put on the fast track to victory in February when the IOC named it as the preferred candidate. The bid was led by IOC Vice President John Coates.
MILB – Minor League Baseball – High-A Central
Yesterday
West Michigan Whitecaps 10, Lansing Lugnuts 0
Wisconsin Timber Rattlers 6, South Bend Cubs 1
Dayton Dragons 6, Great Lakes Loons 3
Tonight
Lansing Lugnuts at West Michigan Whitecaps, 7:05 p.m.
Wisconsin Timber Rattlers at South Bend Cubs, 7:05 p.m.
Great Lakes Loons at Dayton Dragons, 7:05 p.m.
MHSAA – High School Sports
Last Night
Girls Soccer – Regional Final
Division 3 aat Grand Rapids South Christian
Hudsonville Unity Christian 5, Three Rivers 0
Tonight
Girls Soccer – Regional Final
Division 4 at Portage Northern
Kal. Christian vs. Calvin Christian, 6:00 p.m.
Saturday
Baseball – Regional Finals/State Quarterfinals
Division 1 at Bailey Park, Battle Creek
Grand Ledge vs. A.A Pioneer, 10:00 a.m.
Portage Central vs. Detroit C.C., 12:30 p.m.
Quarterfinals, 3:00 p.m.
Division 2 at Coldwater
GR South Christian vs. Marshall, 10:00 a.m.
Lakeshore vs. GR Christian, 12:30 p.m.
Quarterfinals, 3:00 p.m.
Division 3 at Cornerstone University, Grand Rapids
Schoolcraft vs. Pewamo-Westphalia, 10:00 a.m.
Buchanan vs. North Muskegon, 1:00 p.m.
Quarterfinals, 4:00 p.m.
Division 4 at Decatur
River Valley vs. Concord, 10:00 a.m.
Kalamazoo Hackett vs. Colon, 12:30 p.m.
Quarterfinal, 3:30 p.m.
Softball – Regional Semifinals/Finals
Division 1 at Grand Ledge
DeWitt vs. Holt, 10:00 a.m.
St. Joseph vs. East Kentwood, 12:00 p.m.
Regional Final, 2:00 p.m.
Division 2 at Otsego
Coldwater vs. Wayland, 10:00 a.m.
Lakeshore vs. Edwardsburg, 12:00 p.m.
Regional Final, 2:00 p.m.
Division 3 at Centreville
Delton-Kellogg vs. Schoolcraft, 10:00 a.m.
Buchanan vs. Watervliet, 12:00 p.m.
Regional Final, 2:00 p.m.
Division 4 at Decatur
Kalamazoo Christian vs. Mendon, 10:00 a.m.
Decatur vs. Bridgman, 12:00 p.m.
Regional Final, 2:00 p.m.
Boys Golf – State Finals
Division 2 at Bedford Valley, Battle Creek
Local Team Qualifiers:     St. Joseph, Lakeshore, Gull Lake, Plainwell
Division 3 at Meadows GC, GVSU
Local Team Qualifiers:     Schoolcraft, Parchment
Local Indiv. Qualifiers:   John Gartland (Buchanan), Ethan Valentine (Buchanan)
Division 4 at The Fortress, Frankenmuth
Local Team Qualifiers:     Bridgman, Kalamazoo Christian, Kalamazoo Hackett,
Local Indiv. Qualifiers:   Andrew Cropsey (Centreville)
Podcast: Play in new window | Download (Duration: 2:40 — 2.4MB) | Embed
Subscribe: Apple Podcasts | Spotify | Stitcher | Email | RSS | More