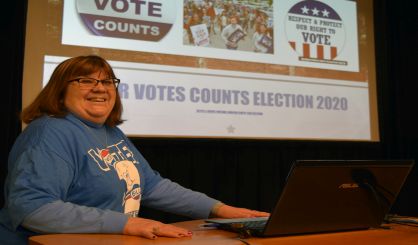 With Michigan's presidential primary on March 10, efforts are being made to promote civic engagement at Southwestern Michigan College. SMC political science professor Mary Young-Marcks tells WSJM News SMC Votes is a campaign designed to inform students and inspire them to action. She and other SMC staff started the campaign after attending some ALL IN Campus Democracy Challenge events.
"We came home thinking that we're really not doing enough," Young-Marcks said. "We really need to get our students more engaged, more aware, and more involved."
Young-Marcks says an event was held last week at SMC featuring members of the Dowagiac City Council. They talked about their civics experience. A Michigan primary information night is planned for students on March 3.
"Giving them the opportunity to know who's there, probably with some bios of candidates and having questions, regardless of what side."
Young-Marcks says SMC Votes is hosting an event each Tuesday night through the primary date. Up next will be a presentation focused on campaign posters, buttons, and shirts on February 18. She notes SMC received a silver medal award from the ALL IN Campus Democracy Challenge last year for having a student voting rate of more than 30%.