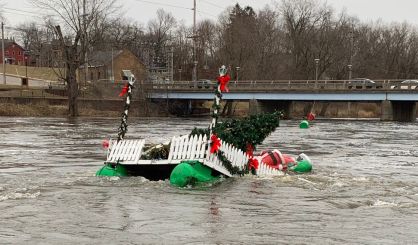 Money is being raised to make repairs to the iconic Niles River Santa, which has been damaged by recent storms. The reindeer have been swept away, and Santa himself has been knocked over. Mike Peters talked to our partners at WSBT-TV about the decoration on the St. Joseph River that his father put out initially in 1962 so that kids in the hospital in Niles could see Santa in the river outside their rooms.
"We've had people who have brought their kids down and seen it when they were little and now those people are bringing their kids and their grand kids down," said Peters. "Through the years I think it's meant a lot to the Niles community itself."
Circle Federal Credit Union is collecting donations to go for the repairs, and Peters is also taking those in at East Main Gardens in Niles. Volunteers have put the decoration into the river every Christmas season for nearly 60 years. The Santa was removed from the river over the weekend.
Photo courtesy of Erika Pickles