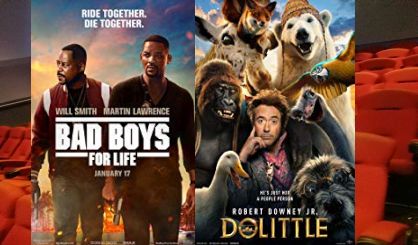 Flick Pick is a podcast about movies. In today's episode, Jacob Holmes and Andrew Green discuss the new movies playing this weekend in Benton Harbor. We've got two of them.
First up is Bad Boys for Life, a new entry in the Bad Boys franchise with Will Smith and Martin Lawrence.
Next up is Doolittle. It's a new Dr. Doolittle movie with Robert Downey Junior in the lead role.
Yep. It's definitely January.
Jacob and Andrew will also discuss the new movies they have most recently seen, along with the Oscar nominations, which were announced this week.
Scroll down and click the Play icon to listen to this very awards-worthy edition of Flick Pick!
Click here to listen to additional episodes of Flick Pick.
Podcast: Play in new window | Download | Embed
Subscribe: Apple Podcasts | Android | Email | Google Podcasts | Stitcher | Spotify | RSS | More