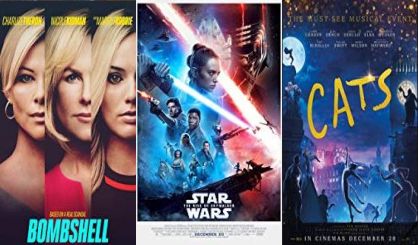 Flick Pick is a podcast about movies. In today's episode, Jacob Holmes and Andrew Green discuss the new movies playing this weekend in Benton Harbor.
First up is a little film called Star Wars: The Rise of Skywalker. We're not totally sure what this movie is about, but we do know it is Star Wars. Jacob will be there. Andrew and Jacob will also take a moment to chuckle at the toxicity of modern franchise fans.
Up next is Cats. Yes, it's Cats, based on the hit Broadway play. This movie looks…interesting. Jacob also explains what Cats is all about.
Third in line is Bombshell. It's a behind the scenes look at Fox News and the sexual harassment scandal that rocked the network a few years ago. Andrew will be there. We promise his review next week will be fair and balanced.
Jacob and Andrew will also discuss the movies they have most recently seen. For Andrew, it's Richard Jewell.
Scroll down and click the Play icon to listen to this harrowing edition of Flick Pick!
Click here to listen to additional episodes of Flick Pick.
Podcast: Play in new window | Download | Embed
Subscribe: Apple Podcasts | Android | Email | Google Podcasts | Stitcher | Spotify | RSS | More