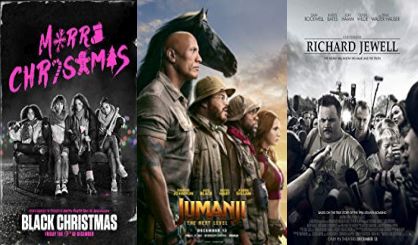 Flick Pick is a podcast about movies. In today's episode, Jacob Holmes and Andrew Green discuss the new movies playing in Benton Harbor this weekend.
We've got three of them this week.
First up is Jumanji: The Next Level, the sequel to the Jumanji movie from last year with The Rock, Karen Gillan, Kevin Hart, and Jack Black. That movie was pretty good, so what do Jacob and Andrew expect from this new one.
Up next is Richard Jewell. It's the new Clint Eastwood movie that takes the media to task for its handling of the Richard Jewell case back in 1996. This one has generated some controversy.
Our third new entry is a Christmas horror movie called Black Christmas. Horror fan Andrew is really looking forward to this one.
Our hosts will also discuss the movies they have most recently seen. For Andrew, it's Knives Out.
Scroll down and click the Play button to listen to this exciting edition of Flick Pick!
Click here to listen to additional episodes of Flick Pick.
Podcast: Play in new window | Download | Embed
Subscribe: Apple Podcasts | Android | Email | Google Podcasts | Stitcher | Spotify | RSS | More