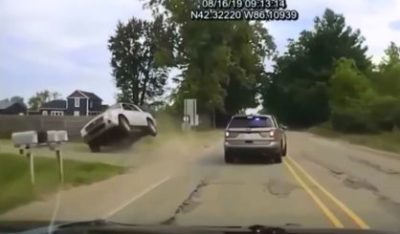 Van Buren County Sheriff Daniel Abbott is getting ready to fly out to New York for his appearance on the A&E show, Live PD next week. He tells WSJM News he leaves Tuesday, and doesn't really know what to expect.
"I'll be on the set all day Wednesday, all expenses paid," Abbott said. "It'll be nice, nice for our community and nice for the office."
Abbott was asked to appear on the show after dashcam video got around of him taking part in a chase and using a pit maneuver to stop the suspect. He says the show's producers told him it was unusual to see the actual sheriff of a county taking part in a chase. Abbott is the first Michigan law enforcement official to appear on that show and says his visit next week could lead to more.
"I've actually been talking with other folks at A&E about possibly getting a couple of camera crews coming out here riding with our office, and we're going to be addressing that next week as well."
The chase in question happened in August when police were trying to catch a man accused of setting fire to his girlfriend's car and pointing a gun at officers. He remains in the Van Buren County Jail. Abbott's episode of Live PD will air next spring.
You can see the dashcam video of the August chase below.